Our curriculum aims to develop young people who:
achieve highly
are resilient, confident and responsible citizens
feel supported and included
secure positive destinations beyond school
The curriculum of Shirebrook Academy comprises a broad and innovative range of learning experiences planned for each student.  A personalised curriculum offer, in conjunction with outstanding teaching that impacts positively on learning and progress that will enable all our students to respond positively to the opportunities and challenges of a rapidly changing world.
Organisation
Students are taught in blocks of 50 minute lessons each day, some of which are double periods of 100 minutes.
At KS3 students cover all the National Curriculum subjects and at KS4 students are offered a broad choice of GCSE/BTEC and vocational qualifications.
In year 7 students are taught in mixed ability groups in all subjects, except in Maths. As students progress through KS3 they begin to be taught in ability set classes within English, Science, PE and MFL too.
Key Features of the Shirebrook Academy Curriculum
'Personal Development Days' and 'Personal Development Lessons'

Students in Y7-10 have one Personal Development lesson per week where they receive lessons based around enhancing skills to make them better learners, stay safe, and become more employable. The sessions underpin the 'Building Learning Power' initiative.
All students have a series of 'Personal Development Days' – days where the normal timetable is suspended and students spend time working on a personal development theme.
Examples of days from last year include 'Life Choices' for Y9, 'Global Citizenship' for Y8, and visits to the Lifewise centre at Magna, Rotherham for Y7. Speakers from outside agencies, such as local colleges, police, school nurse, and Connexions, offer valuable contributions to these days.

GRIT Curriculum at Year 7

All students follow a 'competencies curriculum' in Year 7 Humanities called 'GRIT'
This is aimed at helping the transition from primary to secondary school, as every students will spend 4 lessons, one day a week, with their form and one teacher working on building positive relationships, how they tackle tasks, and what there is in their local area with opportunity to go out into the local area.
Students complete these tasks with research, presentations in different media working co-operatively in groups. All learning underpins the 'Building Learning Power' initiative as well as delivering a traditional humanities curriculum.

KS4 options curriculum

The Academy offers a traditional four-option curriculum for the majority of the students which run alongside English Literature, English language, mathematics, science and core PE.
Identified students follow an alternative option package which includes access to a variety of packages including extra literacy lessons, EAL lessons, learning support lessons and/or Grow 4 lessons (see below).
No students has limitations of their option choices other than each student must choose an 'extended EBacc subject'. These are History, geography, Computer Science, French, Spanish or Single Sciences. This doesn't apply to a small group of identified students due to their learning needs.
The 'EBacc' option is promoted with all students but not forced.

Alternative provision

Our BASE unit leads our Alternative Provision which consists of personalised programmes –

Grow 3 aimed at KS3 students is a horticulture and support programme
Grow 4 aimed at KS4 students includes various AIMS Awards delivered through horticulture and personal development
Forrest Schools is a programme aimed at KS3 students to develop their social skills and self-esteem.
One-to-one sessions and small group sessions are targeted at students requiring extra support or bespoke support with a range of behaviour, social and coping issues.

Our Learning Support Unit leads on various learning programmes for students with varying degrees of SEND including students with EAL. This also includes bespoke packages for students who come to us in Y7 with literacy and numeracy levels below the expected level.
In addition to curriculum time all students have access to a full and thorough pastoral programme in which they experience a citizenship programme through tutor periods and assemblies.
Students also get to experience various Curriculum focus weeks in which there is a large cross curricular element to learning through special experiences, such as Literacy week, STEM week, PE week  and languages week to name a few.
Summary of the co-curriculum offer – 2017/18
The co-curriculum, i.e. the extra support, activities and opportunities for students outside of regular lessons, is equally as important at Shirebrook Academy as the regular taught curriculum. It is through the co-curriculum that students have opportunities to follow a passion, grow as a person, receive extra support or be recognised by staff by being a role model or ambassador.
We offer a four-fold programme of co-curricular provision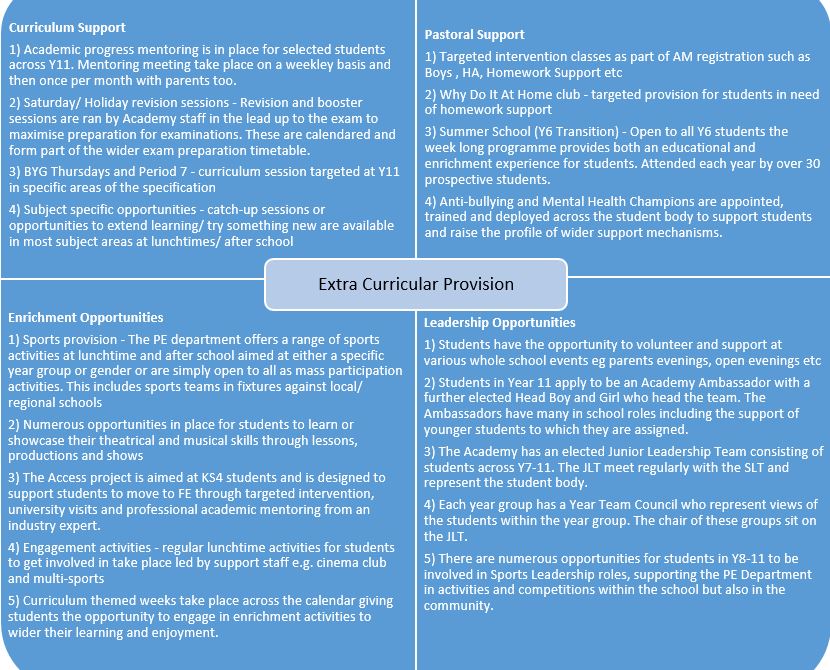 Students complete a 'Student Entitlement Passport' as part of their pastoral routine which acts as a log of their co-curriculum participation and also enables us to monitor and reward students who have a varied and rich provision.
Rewards include –
Positive SIMS logs which can be viewed via parents/ students on SLG
Postcards/ Texts/ Letters/ Phone calls home
Year group recognition in assemblies
Shirebrook Stars (Bronze, Silver, Gold recognition)
Whole School Rewards day (Bronze, Silver, Gold packages)